Dr. Adrienne Larkin: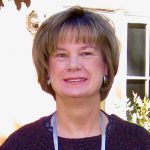 When Adrienne Larkin's son Colin died at 15, she longed to talk to other mothers who had lost a child. The Compassionate Friends group gave her that. Adrienne wished her 7-year-old son David could talk to a group of kids who had lost a loved one. That opportunity didn't exist in Albuquerque, so Adrienne and others created it. She worked all day, then ran groups and did other tasks at the Children's Grief Center at night. In the first kids' group she ran, a little boy declared he wouldn't talk and put his sticky name tag over his mouth. The Grief Center doesn't require anyone to talk in the group, and Adrienne's group had a second facilitator, so Adrienne supported the boy by putting her nametag over her mouth. The boy went to sit in the corner. She joined him. He pulled the name tag off and said "My mother killed herself." Adrienne took her name tag off too, and said, "And that's why you didn't want to talk. I understand." Then the little boy sat back down with the group and began to talk. Seeing kids heal through being around peers who had lost a loved one helped Adrienne heal, too.
Ann Buck: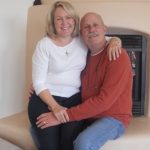 In 1989 Ann Buck, one of the founders of the Children's Grief Center, experienced the death of five family members in a matter of weeks. It was a difficult and traumatic time for her and her three children ages 5, 12, and 15. They had no support system and were unable to find the resources her children needed to understand their grief. 
As an Elementary School Counselor, Ann saw a gap for grief support in the schools as the children who had experienced a death felt different from their classmates. Two young girls, both in the same class had a brother die from gang violence and did not know the other one was going through the same loss. Connecting these girls with other bereaved children through a grief group allowed them to help each other. It also became evident that the parents needed services too, but a community group was not yet formed.
Ann saw a leaflet from the Office of Medical Investigators (OMI) that was exploring starting a program for children and grief support. Ann called the phone number to get involved and helped the Children's Grief Center get started.  Program funding was tight but according to Ann, "Nobody could say no to what we needed." Everyone from graphic designers, printers, and meeting spaces stepped up to help. "It was profoundly evident that services were needed" remembers Ann. Thankfully, the right people came together and were dedicated to providing support for grieving children and their caregivers. Twenty years later, Ann still helps out when she can and continues to serve others.
Elizabeth Adkins: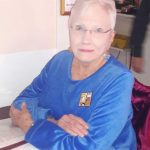 Elizabeth Adkins is a retired social worker; she was a grief counselor who retired from the Office of the Medical Investigator (OMI) in 2004 after ten years of service.  Before that, she was a social work supervisor at the Los Angeles County University of Southern California Medical Center for sixteen years.  She earned a Master of Social Work degree from San Diego State University in 1969 and a Master of Education degree from the University of Southern California in 1990.
In the spring and summer of 2000, she was asked to serve on a committee that was organizing a grief center for children, based on the Dougy Center in Portland, OR.  After about four months of planning she, Robin Franks, and Bernadette Lujan filed the incorporation papers for the Children's Grief Center in August 2000.  Soon thereafter, Alan and Debbie Mask, Robin Franks, Anne Buck, Chelly Weiss, Jade Richardson, and others formed a Board and began work on building the program.  Initially, Alan and Debbie Mask volunteered at their Sunset Mesa School for the CGC's meetings.
Her primary concern was to see the CGC and a functioning Board established.  So in 2004, she stepped back and retired from the CGC at the same time she retired from OMI.
She says it is one of the best things she's done in her life and is sure it is one of the things that will help to get her into heaven.
Robin Frank: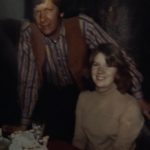 That's my dad, we shared a birthday celebration. Mine was 3/14 and he was 3/29. My mom said she was only making one cake in March HAHAHA. I was 22 when he died. I never anticipated I wouldn't have him to confer with as I grew into adulthood. There were no support groups for young adults at that time (1982) so I was on my own. Working at UNMH in the Burn and Trauma unit showed me there was nothing out there for kids at all so Liz Atkins asked me to join a group of folks that were talking about how to accomplish this task and voila! CGC was born.
Debbie and Alan Mask:
Why help start an organization to provide grief support for children?  Because we lived the grief of losing a child.  We saw our daughters live the grief of losing a brother.  We saw them helped—and we were helped—by a similar organization when we lived in Texas.  When we heard that a small group was planning to "do something" new in Albuquerque, we wanted to add our skills and resources to that effort.  Because of our experience we knew that the Grief Center's model—using lay volunteers under professional guidance—would help hurting families.
Chelly Weiss: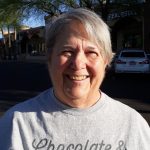 My father died when I was 9 and my sister was 4 1/2.  He died in the middle of the night and there was a lot of commotion in the house.  When I told my sister, she did not believe me.  At that time it was thought that children didn't need help with processing the death so we were sent to an aunt while all arrangements were being made.  We were not able to attend the funeral.  In the Jewish religion, the headstone is not put up until about 11 months after the death.  Cheesecloth is placed on the headstone and removed by a family member.  My mother insisted that I remove it.  It wasn't until then that it totally hit me that he was gone.  I cried for hours and had no place to share my grief.  That is why when I learned that a group was trying to organize the grief center that I jumped at the chance to be involved.  Children have many needs surrounding the death of a loved one and this was an important mission.  I am proud that I was part of the grassroots group that developed what eventually became the Children's Grief Center.
Jan Fike: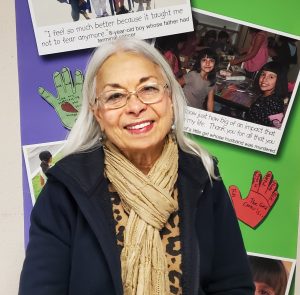 Jan has been in a variety of positions with the Children's Grief Center and is currently a Bereavement Facilitator. When asked to tell the story of my association with the Children's Grief Center since it was just a dream in our imagination
in the year 2000, the best way, for me, is to share the healing potential each time we meet in groups with families, as expressed in the following poem.
STORYTELLERS IN THE CIRCLE OF WEAVERS 
They come to tell their story
        in the circle of weavers.
Because it is a story of love,
        it is also a story of pain.
They tell how they wove their fabric,
        with care, with many threads.
They tell how the fabric was ripped
        beyond repair.
The sound of that long final tear
        is in their voices, and in the air.
It follows them relentlessly,
        everywhere.
The silence at the end of the story,
        could be the end.
But in the circle of weavers,
        it is not the end.
Torn threads begin to stir,
        back and forth,
Across and around the circle,
        the weaving begins.
The threads are torn, and broken,
        but there is life and power
In the weaving of them.
Pain and loss must be respected.
        They cannot be changed.
But new cloth can be woven,
        of caring, and understanding,
Even with broken threads,
        in the circle of weavers.
~Elizabeth Morris