Candy helped the Defnet-Nichols family heal after loss.
M&Ms helped Jeremiah Nichols open up after his father, Kevin, died in a motorcycle accident. 
Jeremiah's family began attending the Children's Grief Center when Jeremiah was 15. He remembers a game that gave kids the chance to answer questions about themselves in front of a peer group. The kids got M&Ms as a reward for sharing, but they didn't have to answer a question if they didn't want to.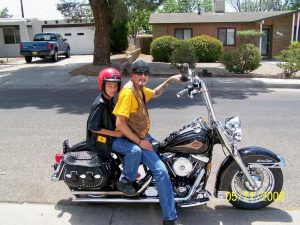 Talking about his dad's death helped Jeremiah begin to heal, "even if talking about it was just saying a couple of words a session," he says. "Slowly and surely, like a pressure cooker releasing that steam."
Kathleen Defnet, Jeremiah's mom, says the adult CGC group she attended helped her understand why her kids' grief looked different from hers.
"Adults cry and scream and want to talk," Kathleen says. "Kids don't – they want to remember the happy things.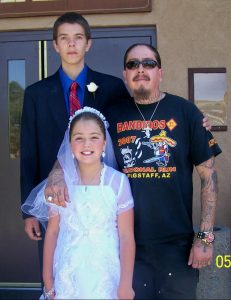 It's OK that they want to be playful. They would hold it and hold it in – then we don't have sliced cheese and [my daughter] would cry for two hours. We know where that's coming from."
Jeremiah's sister Samantha, who was nine when her dad died, says the skills she learned at the Children's Grief Center have helped her open up to new experiences.
"I was super anxious because I didn't like talking about my feelings," she said. "A lot of times I would just listen. Even just sitting there listening was helpful." 
Jeremiah and Samantha attended CGC's first Camp Corazon, a summer camp for children who have lost loved ones. Samantha was scared to leave her mom, but Jeremiah's presence made her feel more comfortable at camp.
"With that sibling aspect, we had the opportunity to be with our separate age groups, and grow and explore while still not being so far away that you feel completely alone," Jeremiah said.
Their family has grieved, grown, and laughed together. Kathleen left emergency medicine and became a nurse. Samantha, now 19, is considering her next steps.
And Jeremiah is a funeral director in San Antonio. He had an eye on that career path even before his dad's death.
"It's hard to have fun when you're a kid who has lost someone," he says. For him, the CGC was about "having the space to learn to be a kid again."